Happy Ever After in La Quinta
Posted on 16th July, 2019
Imagine floating down the aisle in a gorgeous outdoor setting magnificently etched against a towering mountain backdrop. The subtle scent of flowers perfumes the air while a brilliant desert sunset and soft bistro lights illuminate your picture-perfect wedding ceremony…and it's December!
When you're planning to tie the knot in winter, a Palm Springs desert destination wedding at La Quinta Resort & Club makes for an unforgettable celebration. With our mild climate—daytime temperatures hover in the 70s and 80s November through March—couples have a range of options for the ultimate wedding weekend at our Waldorf Astoria resort, plus plenty of outdoor activities to entertain family and friends. And because there are endless possibilities, which can overwhelm even the most laid-back bride and groom, here are some of the latest trends—from bridal looks to party ideas—to help shape the desert wedding of your dreams.
#1 Bridal Look and Wedding Party Dresses
The venue frequently inspires the bridal look—think Palm Springs vs. Aspen—with winter wedding fashion often mimicking red carpet looks from earlier in the year. When bling and sparkle rule the red carpet, the look is generally more muted in the desert. Whether the bride is wearing white, ivory or nude, "lots of lace and texture is the trend," says Cathy O'Connell, co-founder of wedding and event planning company COJ Events. And because winter nights in Palm Springs can be on the cooler side, brides may opt for sleeves or capes, shrugs and vintage wraps. Bridal party styles are moving away from—in fashion speak—"matchy-matchy" with a tendency towards wearing shades of the same color in different styles—for instance, an ombre effect of light pink to burgundy.
#2 The Groom & Groomsmen
Whether bespoke or custom tailored, tuxedos will always embody classic elegance so grooms will never want to rule out this black-tie (semi-formal) look, but guys, you're also getting your day with color, texture and patterns. From grooms in peacock-hued, kelly green or satin velvet suits to patterned shoes—almost anything goes.
#3 Invitations
Today, whimsy, creativity and imagination are sparking everything from deckled edge wedding invitations and fabricating cards with wood, metal, velvet and beading to minimalism, metallics and three-dimensional elements. On the other end of the spectrum, couples are moving towards simplicity with online invitations gaining more popularity, even among high-end weddings.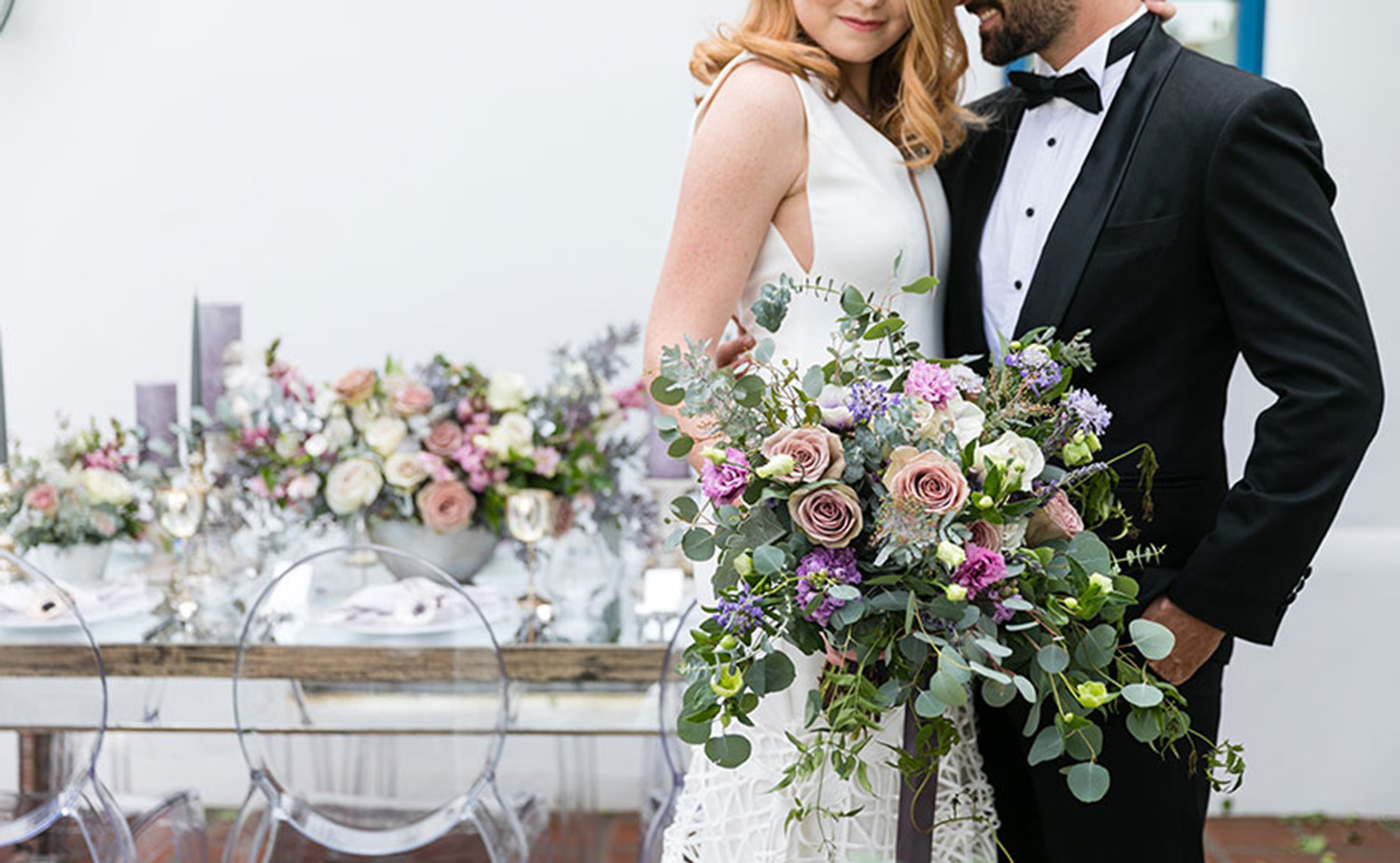 #4 Design & Décor
Never underestimate the use of lighting in a space—uplighting, pin spot lighting, candle lighting etc. Lighting can set the mood and make a dramatic impact. And bright lighting elements in contrast with dark tones will always have a place in the desert. The past few years have seen a lot of weddings using greenery and white flowers to create a soft, romantic garden look. This is still popular, but there is also more interest in adding color, or unique flowers and foliage in especially artistic arrangements. Large floral arrangements fashioned in a more formal round shape are giving way to organic arrangements in unique vases of concrete, copper and faceted glass, or even solo flowers in a vase. Tropical flowers and greenery, such as palms and Protea flowers are still in vogue, and there's no rule saying that centerpieces must match so feel free to mix it up to create the most unique look.
Couples are also going for eclectic yet minimal designs with unconventional, non-floral centerpieces, along with more patterns and textured linens on tables. Likewise, dinner seating is breaking tradition in favor of creating spaces that encourage more guest interaction—think long communal tables with open seating or large and small rounds artfully interspersed in a bistro-like setting.
#5 Food & Drink
Pre-ceremony cocktails and champagne or not?  Of course, it primarily depends on your personal preference and budget. According to O'Connell, many of her clients want the party started from the moment the first guest walks into the ceremony space!
Sit-down formal weddings are still common, but there is also a trend away from the fixed seating plated dinner for weddings.  "We have had weddings of all sizes opt for a less formal cocktail party vibe for the entire dinner," O'Connell says. "The party space is arranged with lots of tables of all sizes and guests choose where they sit while socializing throughout the space for the evening."
Family style dining is still popular as a variety of food can be offered. There is also a much broader interest in vegan / vegetarian options for more than just a few guests. Beef and fish courses are still popular options, but wedding couples are adding in ethnic fusion tastes to match their backgrounds or their personal preferences. For instance, a COJ Events wedding couple from the Pacific Northwest hosted a Cajun-style New Orleans feast because they loved the food and thought it was fun and different.
And, as the night goes on, why not keep your guests warm and cozy with a festively decorated hot chocolate bar (spiked and non-alcoholic versions) around a fire pit? This is an especially popular addition around the winter holidays.
#6 Entertainment
From DJs to live bands, comedians and professional dancers, ideas are endless for ways to wow your guests on your big day. And you don't necessarily need to sacrifice one type of entertainment for another. "We're seeing a trend towards blending entertainment elements," O'Connell explains. "A DJ with a performer playing trumpet, saxophone or violin, pianist and saxophonist; even an electric violinist playing while a Cirque du Soleil artist performs on a pole with a DJ back-up."
#7 Parties Surrounding the Main Event
Envision parties by the pool in January with a tendency towards inviting everyone—not just family and out-of-towners—to the pre-wedding night festivities. Couples are keeping it casual too—long on taco parties and barbeques and short on toasts so guests can connect, socialize and simply have a great time.
There is a growing trend to keep wedding events more relaxed and fun.  Couples are bringing in giant-sized games, fortune tellers, magicians, face painting and other interactive elements. Brunches are becoming actual pool parties, not just parties around the pool.
#8  The Ceremony
Indoors or outdoors, wedding backdrops are taking on interesting geometric shapes—circles, triangles, diamonds and heptagons to name a few. The new norm for ceremonies is "no rules" says O'Connell, whose team at COJ events has conceived and coordinated weddings for many multicultural, multiethnic, straight and gay couples.
Large bridal parties are still popular but O'Connell and her team are also seeing weddings without bridal parties. Several couples recently invited their friends to get ready with them and take a few group photos together, but no one had a dress requirement or obligation to walk down the aisle.
Friends often officiate at weddings, and couples are embracing their religious backgrounds and ethnicity in new ways, with interfaith couples frequently blending traditions and faiths during the ceremony.
Say your "I dos" in our winter paradise – a one-of-kind wedding experience awaits at La Quinta Resort & Club, a premier Palm Springs hideaway.  https://www.laquintaresort.com/events/weddings/
For more inspiration, follow us on Pinterest.