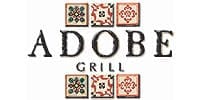 The Essence of Mexico in Palm Springs
Immerse yourself in an authentic Mexican dining experience with our traditional Oaxacan motif and double-sided fireplace. Let our talented bartenders create a bespoke margarita – just for you – from 1 of more than 100 tequilas.
Adobe Grill is open for outdoor dining and limited indoor seating upon request.
Food
Daily 5-10pm
Top of the Plaza
Daily 4 – 10pm
Reservations
Tel: (760) 564-5700
Food
Daily 5-10pm
Top of the Plaza
Daily 4 – 10pm
Reservations
Tel: (760) 564-5700
Menus
Dinner Menu
ANTOJITOS, CRUDOS Y CEVICHE
GUACAMOLE Y SALSA
Corn Tortilla Chips, Roasted Salsa, Avocado, Onions, Jalapeno, Cilantro, Lime
ADOBE SALAD
Romaine, Avocado, Jalapeno Dressing, Tomato, Corn, Beans, Panela Cheese, Tortilla Strips
ENSALADA DE LA CASA
Heriloom Tomato, Burrata Cheese, Lemon-Honey Vinaigrette, Candied Pecans, Frisee, Balsamic
GAZPACHO DE SANDIA
Chilled Watermelon Soup, Honey, Tequila, Mango, Mint, Jalapeno, Sea Salt
POZOLE ROJO
Pork Stew, Hominy, Guajillo, Lime, Radish, Onions, Chicharron
TOSTADAS DE ATUN
Corn Tostada, Ahi Tuna, Chipotle Aioli, Guacamole, Soy-Chili Dressing
FLAUTAS
Corn Tortilla, Chicken Machaca, Guacamole, Salsa Roja, Queso Fresco, Lettuce
CEVICHE DE CAMARON
Shrimp, Pico de Gallo, Cucumber, Avocado, Corn Tostadas, Plantain Chips
TIRADITO DE HAMACHI Y CALLO DE HACHA
Hamachi, Scallops, Avocado, Jalapeno- Cucumber Emulsion, Cilantro, Corn Tostadas
CHALUPAS
Corn Cup, Beans, Avocado, Panela Cheese, Chicken, Chorizo or Cuitlacoche
QUESO FUNDIDO
Cheese Blend, Rajas, Onions, Corn Tortillas, Chorizo or Cuitlacoche
EMPANADAS
Pork Carnitas, Tomatillo Salsa, Sour Cream, Queso Fresco
CHILES GUEROS
Stuffed Yellow Peppers, Shrimp, Cheese, Chorizo, Chipotle Cream, Soy Sauce
TACOS
STEAK
Beans and Rice, Salsa Verde and Salsa Roja
PORK AL PASTOR
Beans and Rice, Salsa Verde and Salsa Roja
SHRIMP
Beans and Rice, Salsa Verde and Salsa Roja
ESPECIALIDADES
POLLO CON MOLE
Free Range Crispy Chicken, Mole Poblano, Baby Vegetables, Rice, Corn Tortillas
ADOBE COMBINACION
Pork Tamal, Chicken Enchilada and Chile Relleno, Salsa Ranchera, Rice, Beans
COSTILLAS EN ADOBO
Braised Beef Short Ribs, Ancho Demi, Baby Vegetables, Smoked Sweet Potato
PESCADO A LA VERACRUZANA
Chilean Seabass, Tomato, Capers, Olives, Onion, Avocado
ENCHILADAS VERDES
Cheese, Tomatillo, Sour Cream, Cilantro, Rice, Beans
ENMOLADAS DE POLLO
Mole Poblano Enchiladas, Chicken Machaca, Cheese, Sour Cream, Rice, Beans
COLIFLOR ROSTIZADA
Roasted Cauliflower, Romesco, Manchego Cheese, Baby Vegetables, Wilted Greens, Balsamic
CALLOS Y CAMARONES A LA DIABLA
Scallops, Shrimp, Diablo Sauce, Rice, Black Bean, Avocado, Cilantro
CARNE ASADA
Avocado-Salsa, Corn, Potato, Cheese Enchiladas Choice of: 10oz Skirt Steak, 12oz Prime NY Steak, 18oz BI Prime Ribeye
FAJITAS
FREE RANGE CHICKEN
Onions, Peppers, Cilantro
SKIRT STEAK
Onions, Peppers, Cilantro
SHRIMP
Onions, Peppers, Cilantro
POSTRES
PASTEL DE TRES LECHES
Mexican Sponge Cake, Whipped Cream, Tequila Infused Berries
FLAN
Vanilla Custard, Berries, Mint
CHURRO SANDWICH
Chocolate Abuelita Mousse, Cajeta, Berries
SIDES
ESQUITES
Corn, Sour Cream, Queso Fresco, Tajin, Lime
CRUDITE
Baby Local Vegetables, Lime
CHILES TOREADOS
Shishito Peppers or Jalapeno, Citrus Juice, Chili Flakes, Sea Salt
BRUSSELS SPROUTS AND COLIFLOWER
Salsa Ranchera, Manchego
RICE AND BEANS
White or Tomato Rice and Refried Pinto Beans or Black Beans
Drinks Menu
FAMOUS MARGARITAS - BUY A PITCHER AND ENJOY FIVE MARGARITAS FOR THE PRICE OF FOUR!
EL PERFECTO
Sauza Blanco, Cointreau, Splash of OJ, & Fresh-Squeezed Lime & Lemon Juice
CADILLAC
El Jimador Reposado, Grand Marnier Liqueur, Fresh Squeezed Lime & Lemon Juice
PEPINO DIABLO
El Jimador Reposado, Muddled Cucumber, Agave Nectar, Jalapenos, Fresh Squeezed Lime & Lemon Juice
MARGARITA DIETETICA
Sauza Blanco, Club Soda, Fresh-Squeezed Lime & Lemon Juice, Agave Nectar
MARGARITA DEL REY
Casamigos Reposado, Cointreau Noir Orange Liqueur, Lime & Lemon Juice
MARGARITA DE SABORES
El Jimador Reposado & Cointreau | Choose from: Strawberry, Mango, Peach, Raspberry or Prickly Pear
ASK YOUR SERVER FOR OUR COMPLETE LIST OF TEQUILAS!
EXTRA ANEJO
Aged 1+ Years
MEZCAL
FLAVORED TEQUILA
Jalapeno | Tropical | Cocoa
COCKTAILS
CASA RICH
Volcan Blanco Tequila, Coconut Water, Fresh Pineapple Juice, Veuve Cliquot Rich Finish
MISDEMEANOR
Casamigos Silver, Green Chartreuse, Agave Nectar, Lime Juice, Pineapple, Jalapeno
CUCUMBER GINGER REFRESHER
Tito's Vodka, Lime Agave, Ginger Beer, Candied Ginger
POMEGRANATE COSMO
Grey Goose Vodka, Cointreau, Pomegranate Juice, Lime Juice
MOCKTAILS
SPICED PRICKLY PEAR SODA
Prickly Pear Puree, Lime Juice, Sprite (Non-Alcoholic)
BERRY SHRUB COOLER
Berry Shrub, Simple Syrup, Club Soda (Non-Alcoholic)
CERVEZAS
BOTTLES
Dos Equis, Negra Modelo, Tecate, Tecate Light, Victoria, Pacifico, Corona Extra, Corona Light, Bohemia Lager, Modelo Especial, Sol
DRAFT
Modelo Especial, Corona Light
ADOBE CHAVELA
Tecate Beer, Clamato and Lemon Juice, Dash of Cholula
VINO (WHITE)
SPARKLING
Mumm, Brut Prestige (Split), Napa Valley
CHARDONNAY
Principe De Viana, Spain
VINO BLANCO
La Playa, Chile
VINO (RED)
CABERNET SAUVIGNON
Axel, Chile
VINO ROJO
Enrique Foster "Ique" Malbec
Argentina
Gascon "Colossal Red" Blend
Argentina
Tamari "Reserva" Malbec
Argentina
Marques de Vargas "Rioja Reserva"
Spain