Swing Like Sharapova
Posted on 12th February, 2018
For some, the month of March signals the start of spring or perhaps conjures images of Easter eggs and green shamrocks. But if you ask Lynne Rolley, Director of Tennis and Pickleball at La Quinta Resort & Club, March is all about tennis.
It's when thousands of fans flock to the Coachella Valley for the annual BNP Paribas Open in nearby Indian Wells, one of the most popular stops on the ATP and WTA Tours. The BNP drew nearly 450,000 fans in 2017 and continues to grow each year.
However, over a quarter of a century ago, the lauded event unfolded at Rolley's home base, just 3.5 miles away. It all started in 1977 when pro player Charlie Pasarell teamed up with Ernie Vossler of Landmark Land Company, a development firm that eventually purchased the La Quinta Hotel (as it was affectionately called until the early '90s). Vossler had a dream: He imagined the resort as a tennis capital, where professionals and amateurs alike could rally the day away on the courts of a historic desert hideaway, surrounded by jaw-dropping mountain views and endless palm trees.
La Quinta Resort & Club already had solid footing in the tennis realm, having constructed its first six tennis courts and pro shop as early as 1937. Even then, legends such as Gary Cooper and Jane Wyman were training at its facilities.
With Pasarell on board as director, and several cohorts by his side (Arthur Ashe, Stan Smith, and Roscoe Tanner to name a few), the resort's tennis club was born. In 1981, La Quinta Resort & Club hosted its first major professional tennis tournament, the Grand Marnier/ATP Tennis Games (now the BNP Paribas Open). A menagerie of tennis-minded men and women gathered for the tournament, which ended with Jimmy Connors defeating Ivan Lendl for a $175,000 prize.
The event brought national attention to the charming resort already revered for its seclusion and world-class amenities and led to the creation of its signature sunken, tournament-style center court. Though the tournament was relocated to a larger facility in 1986, the spirit of it lives on at its former home, which Tennis magazine consistently rates one of the country's best tennis destinations. With 18 hard courts and a 4,000-square-foot state-of-the-art fitness facility, it's no surprise some of the sport's biggest names — such as Djokovic and Sharapova — have practiced on its storied courts.
"What's also taken off is this connection with the Tennis Channel," Rolley explains. "Tracy Austin was here at Thanksgiving, and we did clinics with her. And all the commentators want to stay here." But, even she has to admit, there's a special magic in the air come March.
"It's just so much fun over here during the tournament," says Rolley, who claims more than 40 years of coaching expertise. She previously served as the director of women's tennis for the United States Tennis Association, coaching the likes of Jennifer Capriati and Lindsay Davenport (who has oft-frequented the resort). "We have players practicing, everyone from the tennis community coming by to say hello. It's almost like an off-site center. It's a place you can stay without being bothered."
Not only does the resort offer free shuttle service to and from the BNP Paribas Open for guests, it also hosts a daily tennis academy that consists of three 90-minute sessions, starting bright and early at 7:30 a.m. To ensure each player gets the most out of the academy, only 10 courts are going at a time, with six players to a court. Spots fill up quickly, with some 1,100 sign-ups by the time the tournament rolls around, so Rolley advises guests to enroll early.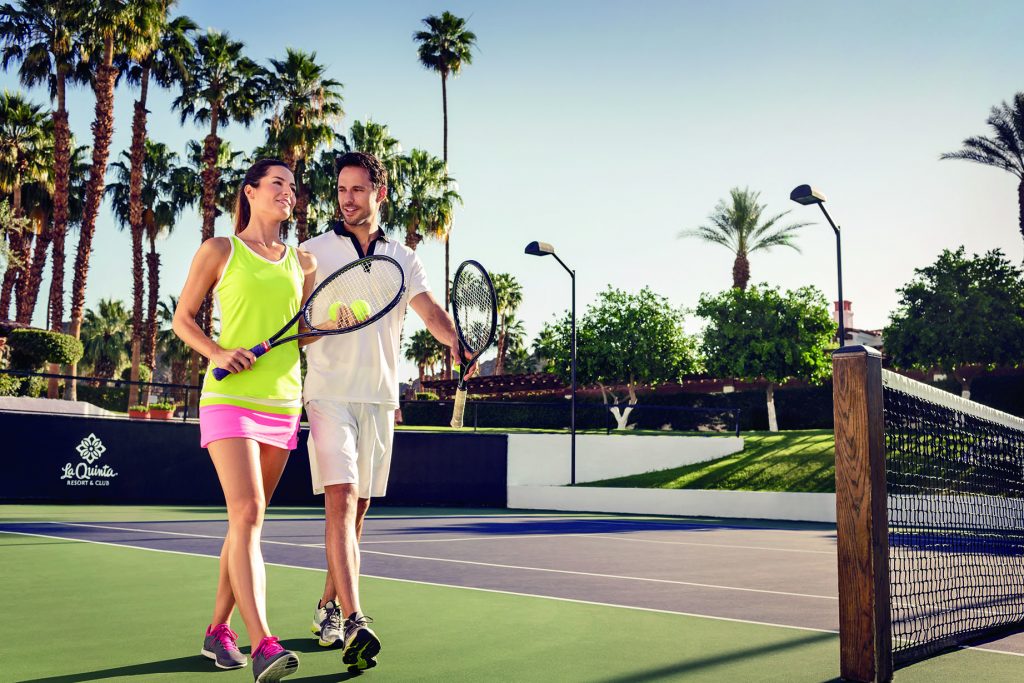 According to Rolley, the ideal scenario is to sign up for one or two sessions, then go back to your room and freshen up before jumping on the bus to head to the matches in Indian Wells.
Imagine:
7:30 a.m. Tennis academy session No. 1 with a USPTA-certified professional
10 a.m. Quick bite post-practice at the Center Court Café
10:30 a.m. Free shuttle ride to the Indian Wells Tennis Garden
5 p.m. Arrive back at La Quinta Resort & Club in time for happy hour at Twenty6
6:30 p.m. Dinner reservations at Morgan's in the desert
Though the tennis academy primarily attracts adults, instructors do accept kids 12 and up, depending on their skill level. It's a great activity for the whole family and gets everyone excited for the tournament — in fact, Rolley adds, La Quinta Resort & Club is unique in how family-friendly its amenities and programs are. Similar clinics are offered during the holidays, and of course, guests can always block private lessons targeting everything from technical skills to overall fitness.
"It's just a unique environment," Rolley says. "I've been coming here since the early '80s. We sell relaxation." And undoubtedly, history forms a crucial part of that experience.
When you play on the courts at La Quinta Resort & Club, you're literally following in the footsteps — or better yet, the backswing — of legends.
To enjoy the ultimate tennis getaway, book the resort's Tennis Experience Package. It includes three hours of instruction with a USPTA-certified pro, overnight accommodation, and a reduced resort fee.