Top Five Reasons to Come to Desert Smash
Posted on 6th March, 2023
It's hard to believe the 19th annual Desert Smash is already here! For those who are not familiar with Desert Smash, it is a tennis extravaganza that brings together Hollywood and professional tennis for charity. When Desert Smash was founded, the first choice as a host venue was the La Quinta Resort & Club. The resort is home to an awe-inspiring sunken tennis court with breathtaking views, the perfect backdrop for Desert Smash.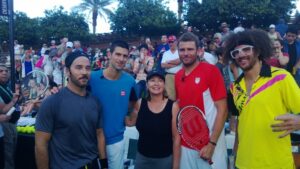 Kevin Connolly, Dermot Connolly, and the entire team at La Quinta Resort have done a spectacular job of keeping the resort one of the most sought-after tennis destinations in the world. Desert Smash and La Quinta have hosted many iconic matches. In years past, they have had Will Ferrell, Kevin Hart, Justin Bieber, Gwen Stefani, Gavin Rossdale, Joe Pesci, Pete Sampras, Andre Agassi, Steffi Graf, Roger Federer, Maria Sharapova, Novak Djokovic, and Marat Safi. This year will be no different as the P!NK makes her tennis debut.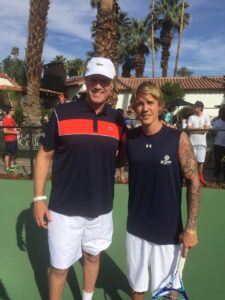 The way the event unfolds is a couple of WTA and ATP Tour will compete in singles matches, then they mix it up and play a couple of doubles matches in celebrity + pro vs. celebrity + pro style! With the players, all mic'd, a celebrity chair umpire, and the smack talking back and forth, it's an afternoon of pure entertainment, paired with margaritas and good music, allowing for a great day and all for a great cause.
This year's charity and beneficiary is Playing for Change Organization. PFCF grew out of a common belief that music has the power to connect people regardless of their differences. Currently operating over 50 locations in 16 countries, reaching over 40,000 lives, and employ more than 200 staff, teachers, and community leaders. They use music and culture to help kids in need rise through their own culture and address the social issues they are facing. PFCF starts with music and continues with impact! We are thrilled to have partnered with such a great organization this year!
Of course, no big charity celebrity event would be the same without a party! This year's Desert Smash Bash, the official after-party, will take place at the incredible private estate, Zenyara. Party hard with passed hors d'oeuvres, food stations, open ultra-premium bars, and surprise musical guests! Past performers have included Gavin Rossdale/Bush, Justin Bieber, SIA, Boys II Men, Nelly, Natasha Bedingfield, Ja Rule, and the list goes on!
Interested in coming out and supporting the event this year? Tickets are still available. Tickets range from daytime and nighttime events, on-court seating, playing on the court with celebrities + pros, and even buying a champagne table. For more information and ticket purchases, please visit www.desertsmash.com!
With this, here are the TOP FIVE REASONS TO COME TO DESERT SMASH on MARCH 7, 2023:
It's the most intimate stadium and has the closest seats to see the top players in the world and some of the most recognized celebrities!
Our El Tequileno Margaritas!
A chance to see P!NK make her tennis debut!
The incredible auction items and mind-blowing giveaways this year!
The Desert Smash Bash at Zenyara– one of the most incredible private homes in the world!